– FOR NJF ATTENDEES AND THEIR GUESTS –
Visit the volcanos surrounding Reykjavik
Date: May 2
Departure Location: Harpa conference venue
Departure time: 08:00
Duration: 2,5 -2,45
Minimum participants: 10
Price: ISK 13.000
In just half an hour you can be up in the volcanoes surrounding Reykjavik enjoying the moon-like landscape of lava, covered with moss, cinder cone craters, sulfur smelling hot springs, boiling mud pits and the beautiful lake Kleifarvatn.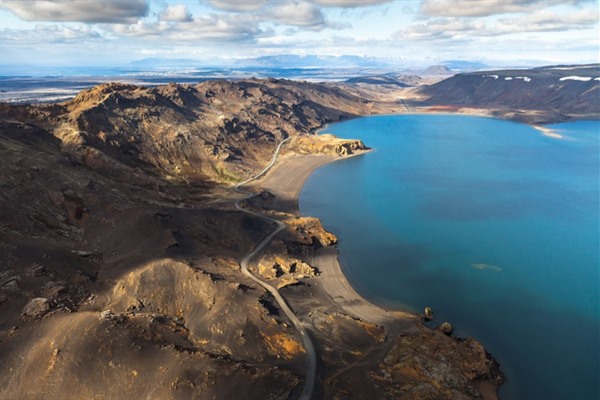 Along the way, you will hear all about the eruption that might put Reykjavik in a similar situation as Hawaii has been experiencing for a while now.
You will be back at Harpa in due time for the opening ceremony
Have fun!
Date: May 2
Departure Location: Harpa conference venue
Departure time: 09:00
Duration: 75 min
Minimum participants: 6
Price: ISK 9,500
Experience the magic of history in the oldest part of Reykjavík. See how the town expanded from the harbour, hear the exciting tales of yesteryear, feel the atmosphere of the city´s most sought after residential area, smell the aroma of the city's newest and most exciting restaurants mixing with the more traditional sea-related activities.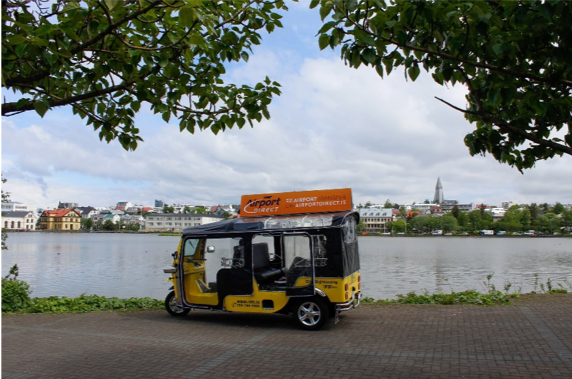 Our guides will take you on a journey through time and weave a magical thread of fun and facts for you to experience.
Our Tuk Tuk´s provide an easy access to the narrow, cobbled streets of the old town and give you an insider's look on Reykjavík of today, with a touch of the past.
Our 75 min tour gives you a thorough look at Reykjavík of the old, with its fishing cottages by the harbour and the more distinguished houses on the hill of Þingholt, from the revival of Grandi, where modern times meet the fishing shacks, to the ingrained neighborhoods where every house is of a different color, with the pond at its center.
We give you an insider´s view on how the residents of today stand firmly in the Reykjavík of the past. A great way to see the city´s landmarks.
Laugarvatn – Eldaskálinn – dinner fun
A truly unique experience off the beaten track
Date: May 4
Departure Location: Harpa conference venue
Departure time: 16:30
Duration: about 7 hourse
Minimum participants: 25
Max participants: 65
Price: ISK 23.500
Included: bus, guide, refreshement at Laugarvatnshella caves, dinner (bbq style) at Eldaskálinn Laugarvatn lake with beer/wine
This is an adventure!
The tour will departe right after the closeing ceremony you will drive to Laugavatnshellir cave.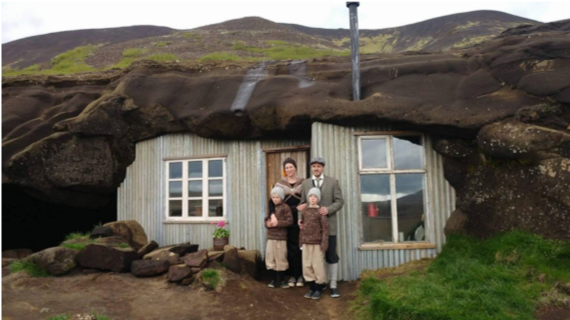 Laugarvatnshellir – the Cave of Laugarvatn is quite a remarkable cave, as two families lived in it in the last century―two children were even born in this cave. Laugarvatnshellir is one of the very few caves in Iceland in which people actually lived. It was normal for outlaws to live in caves, but not for the common Icelander. A guide will tell you the story about the family how lived there and a difficult birth in the cave and the midwife that had to come to assist with the child birth
After Laugarvatnshellir, you will have dinner at Eldaskálinn at Laugarvatni, you will get amazing burger and some thing to keep you warm.
After dinner and some fun you will head back to Reykjavik but on the way you will stop at Þingvöllir, national park https://www.thingvellir.is/en/
Just remember to bring warm clothes!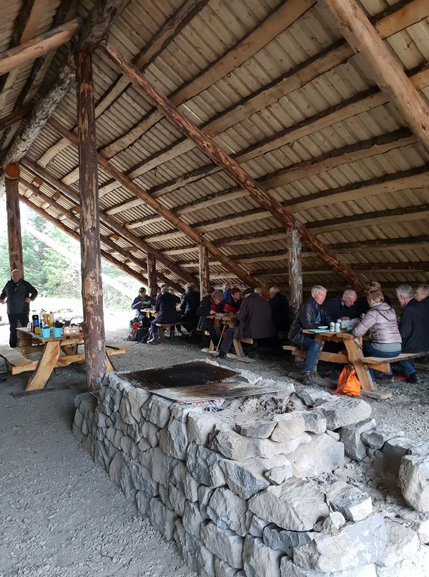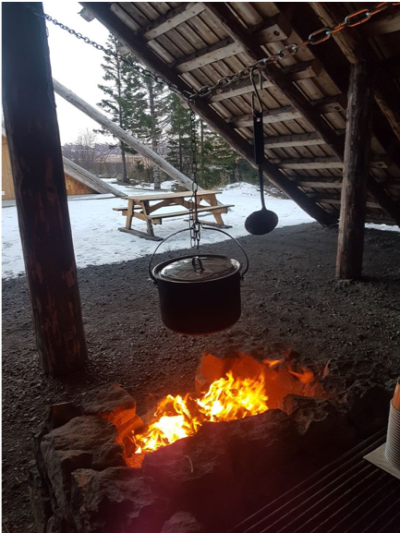 Golden Circle with Secret Lagoon
Dates: May 1 and May 5
Departure from: Harpa the congress venue
Departure time: 09:00
Duration: Whole day event
Min: 20 pers
Price: ISK 24.900
Included: Bus, guide,  lunch at Friðheimar Greenhouse and entrance to the Secret Lagoon.
The tour will start with nice bath at the Secret Lagoon, authentic lagoon just by Flúðir village http://secretlagoon.is/
The Secret Lagoon consists of natural hot springs which have been kept natural and unique so guests can get the true Icelandic feeling. The natural surroundings of the pool and the steam rising into the air gives the place a magical feeling. The warm water holds 38–40 degrees Celsius (100–104 Fahrenheit) all year. In the area there are several geothermal spots and a little geyser which erupts every five minutes, showing off for the guests relaxing in the hot spring.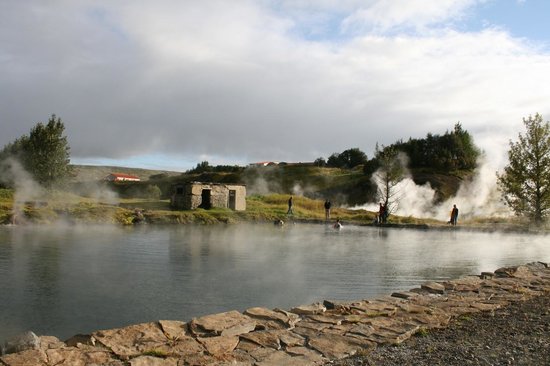 ---
Remember to bring your bathing suits and towel!
After a nice relax at the Lagoon it is time for Lunch you will have your lunch at Friðheimar http://fridheimar.is/en , Friðheimar will start with welcoming you with a small introduction of their work and little surprise that will lift your spirit.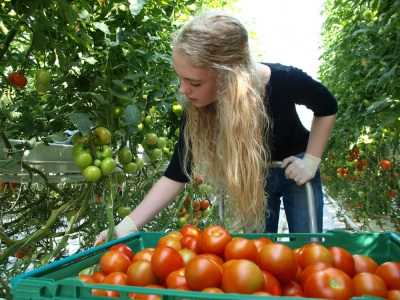 There you can gain some insight into the processes of greenhouse Horticulture, as it is quite remarkable that it is possible to grow vegetables in the cold climate, by creating warm Mediterranean conditions, all year round.
After lunch we will head for Gullfoss and Geysir, Gullfoss waterfall, which many consider to be the queen of Icelandic waterfalls as it is both high and mighty and stumbles dramatically in a deep gorge. After Gullfoss waterfall we will head for Geysir geothermal area in Haukadalur where you can see geysers, hot springs, steam vents and eerie blue algae. Strokkur is one of the largest and most powerful geysers and erupts almost every five minutes.
Your last stop will be at Þingvellir, Icaland National Park, where the Icelandic Parliament was founded over 1000 years ago. At Þingvellir you will see how the earth is ever so slowly pulling apart along the North-America and Eurasian tectonic plates and you will be able to stand where the Viking settlers stood centuries ago to edict national laws.
After Þingvellir you will be heading back to Reykjavik, and estimated arrival time is around 18:00
We hope you will enjoy the tour.
Date: May 5
Departure time: 06:30 early morning – note time table might change to to ferry schedule.
Estimated time back in Reykjavik: 21:45
Included in price: bus transfer, guide, lunch and entrance to Eldheimar museum
To bring: Bring warm clothes and good shoe.
Not included: Dinner and extra activites
Price: ISK 31.500
Min participants: 20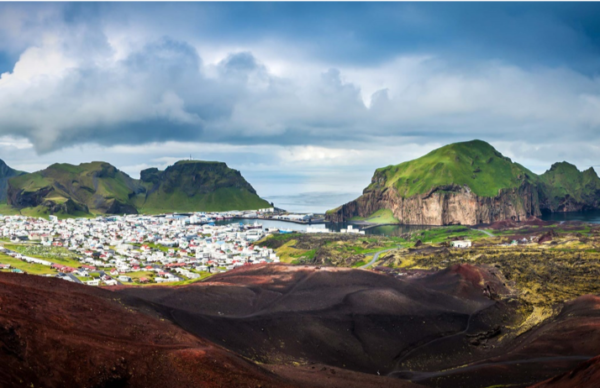 You will drive to Landeyjarhöfn through Hellisheiði moorland and across the lowland of South Iceland, which takes about 1 hour and 45 min. From there the ferry Herjólfur will take you to Vestmannaeyjar Islands.
The sailing to Vestmannaeyjar is approx. 30 min, up on arrival to the main Island Heimaey approx. at 08:45 the coach will take you around the island and you will get to know the history of this amazing place, seeing for example Eldfell, Gaujulundur, Skansinn and more.
At 11:00 lunch stop will be at Gott Restaurant; two cores lunch will be served. Note that only water is included but you are welcome to buy additional beverages such as soft drink and/or vine with your lunch.
After good lunch this tour takes you to Eldheimar exhibition http://eldheimar.is/  but this exhibition takes you on a breath-taking journey which gives insight to the volcanic eruption that shook this community in 1973. We are expected there at 13:30.
After visiting the Eldheimar exhibition a free time is up on your hands. We encourage you to explore the town Vestmannaeyjabær, get to know the locals by perhaps go for a swim in their thermal pool and hot tubs. Take a hike up the latest volcano Eldfell, the one erupting in 1973. Furthermore, few local museums are on the island such as the Fish and Natural History Museum and the Folk Museum and don't forget to take a swing at Sprangan swinging rope where all children of the town will at some point test their skills in cliff swinging.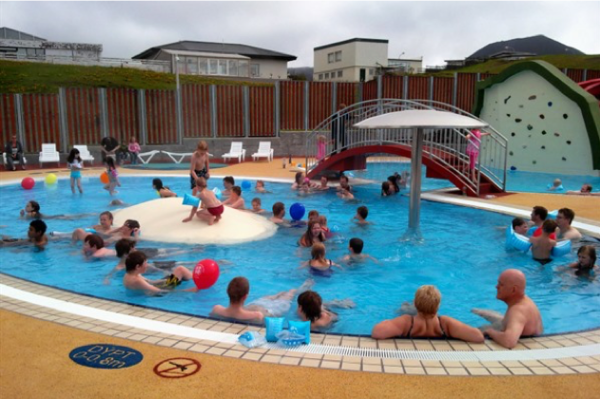 For further information and inspiration here are links for interesting things to see and do at Heimaey in Vestmannaeyjar Islands.
The meeting point before heading back will be at the Brother Brewery Brew Pub and note you will have to be there no later than 18:30 so you will not miss the ferry.
Estimated time back in Reykjavik is 21:45.